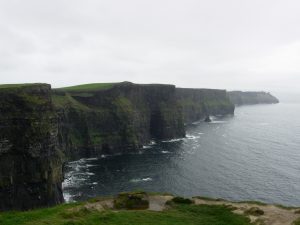 JR: You've chosen the Cliffs of Moher. Tell me about the circumstances of your first live encounter with the Cliffs. Why were you there? Can you describe your reaction at the time?
OA:  I was there as part of a 10-day summer tour of Ireland with my high school choir. It was on one of our days dedicated to sight-seeing. The weather was quintessentially Irish; around 50 degrees with the air thick with clouds, fog and mist. When I first arrived, I remember being immediately captivated by the soothing effect of the weather, the richness of the tall green grass and the anticipation of seeing the Cliffs. It took a small trek to actually arrive at the Cliffs, but my reaction was one of pure awe. I had never seen such natural beauty in the world and had never been so overwhelmed by the majesty of the facades of rock plunging down into the sea. I remember serenity enveloping me as I sat on their edge for the first time, feeling totally at home thousands of miles from my actual home. It was one of the most visceral experiences with beauty I've ever had.
JR: Tell me about the idea of "feeling at home". What does that mean for you? What is it like (for you) to "feel at home" and how is it possible, do you suppose, that seeing these cliffs that are located at such a physical distance from your actual home, could bring about that feeling for you?
OA: I guess part of it stems from my family's propensity for our Irish heritage. My maternal great-grandparents emigrated from Ireland, and thus going to Ireland for the first time felt like coming to my "ancestral" home, so to speak. But the sheer sensual impact of the Cliffs on that day – the grand sight of them and the stretching out of the ocean, the cool breeze, the smell of the grass, the sound of the waves lapping against them hundreds of feet below – induced a feeling of comfort in me that was similar to what I few when in the comfort of my own home. These elements combined to soothe me as I sat upon the edge. It was in these ways that the Cliffs made me feel at home.
JR: Do you find, for yourself, that it is a common feature of beautiful things that they provide you with a feeling of comfort, are soothing, or otherwise make you "feel at home" or is this just a peculiar feature of this particular beautiful thing?
OA: After much deliberation across many different things that I find beautiful, I would say that the feeling of comfort and home that I feel when thinking about/viewing the cliffs is a peculiar feature of this particular beautiful thing. I feel as if certain beautiful things affect me in particular ways, with these ways being contingent on specific objects. For example, I would consider the awe, permanence and comfort that the cliffs invoke to be completely different feelings than, say, the delicate transience of a blooming springtime cherry blossom tree. Yet I would consider them equally deserving of being called beautiful.
JR: Is there anything, then, that you think unites all beautiful things under the description of "beautiful"? What does that word mean to you?
OA: I don't necessarily believe that there is one specific thing that unites all beautiful things, as to me, the term "beautiful" is an umbrella term that is nuanced based on whatever object it is being used to describe. However, one commonality that I have found in my experience with beautiful things is their ability to wholly captivate the gazer. Almost in a transcendent way, they all seem to possess the ability to remove the gazer from whatever anxiety, stress, or negative emotions they may be feeling. The Cliffs of Moher and a flowering spring tree may evoke completely different emotions in me, but they both captivate in such a way that makes them beautiful. The word "beautiful," then, means almost everything to me, as I try to live my life in such a way that fosters this captivation. Whether it is in the form of natural beauty or human-created beauty (both of which captivate in their own ways), I am always seeking this sort of captivation, which I find is a critical component of what makes life worth living.