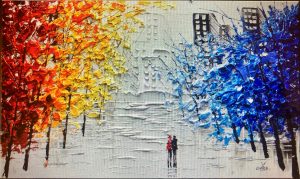 Palette knife painting, on Canvas by Chen. Found on Etsy here.
JR: I understand that for this assignment you decided not to pick something with which you had already been familiar, not something that had any special sentimental value for you. You searched for something that, upon seeing it, you thought: "this is beautiful". So, tell me about what you see, in this painting, that strikes you as being beautiful.
RM: So, first I would like to say there were several things about this image that caught my attention and they all played a role into why I think the painting is beautiful. One of the major artistic aspects to the painting I love in the painting is how it looks touchable. It has ridges and bumps that adds artistic value to the painting. The color drew my attention because of the ombre effect it has. Lastly the two people in the middle resonated a lot with me because I was able to put myself in the picture. The other person could be anyone I decide to input.
JR: I too, can place myself in that scene. The painting seems to invite one to do so. When you put yourself in the picture, there together with another person, with the colorful trees towering over you at each side and the skyscrapers, in turn, towering over the trees (and you, and your companion), how do you imagine the experience of that moment feeling? What is the occasion?
RM: Ok, so I am really examining this picture and the way he's holding her it almost seems to me that she's not a loved one. I would hold my mom that way so instantly I inserted her into that position. Another thing about the painting that I saw is it looks like he's pointing. The occasion that I picture would be my mom and I conversating with one another. I hate to be dark but the colors just remind me of heaven. So of course, the scene would be in heaven. I am a very religious person so the colors that are described in the bible this is the closest I can get to them. Also, the skyscrapers remind me of the mansions that would be built for us waiting in heaven. This painting is a picture of us meeting again after life and taking in all the beauty that God has shared with us. Also, the pathway that the trees creates in the painting sets a pathway to the city called Heaven.
JR: That put a smile on my face, Rondell. I'm drawn to the sharing and the hope. You imagine sharing this moment with your mother (and focus on God's sharing with you both), and this future sharing is movingly hopeful. Do you think hope and sharing are conceptually related to beauty more generally? If so, how?
RM: I most definitely think hope and sharing are conceptually related to beauty. Hope relates to beauty because as humans we tend to dwell on the future. As children our imaginations run wild and we have hope for all types of things, they would hope to firefighters or even having superpowers. The anticipation of hopes is what draws the beauty. The act of looking forward to something is beautiful. Christmas is a perfect example to describe the beauty of hope. Children look forward to presents galore. The hope of waking up to countless presents creates a happiness that cannot be explained but you can see it in little children's eyes. From an adult stand point we are very goal oriented. We tend to focus on our careers to fulfill our financial needs. The hope of finding great jobs that will support explains a lot. Sharing is very weird, beyond materialistic sharing I believe sharing experiences are beautiful. Having someone witness the same beauty or excitement is powerful. It creates stories and also history between one another.
JR: How important is it to you to have beauty in your life and (assuming it is) what sorts of things do you do to make sure you experience beauty?
RM: To ensure that I have beauty in my life, I personally make sure that I am happy and find beauty within myself. When I was diagnosed with depression even when I went on vacation and went to the places I love like the beach it was no longer pretty. When I received straight A's in school and received awards I couldn't embrace any of this. There was darkness within me and I couldn't find beauty anywhere. Luckily, I found some sort of light in my life which was music (singing). Being a part of my A cappella group made me so happy being around the people I love traveling and competing. That was therapy for me and I found myself again. After I went to the beach again, when I went it almost seemed like I had never been there before. So, one thing that I do to ensure that I experience beauty is to keep singing in my life. Make sure I do what makes me happy, so that I could love myself. One thing that I did do as soon as I got on The College of Wooster's campus was start my own competition A cappella group. So that it could help me get through college. I personally find beauty in singing and with singing competitively I share performances with my group members and hope that we go far in competition.